Sipnosis
Junto A Los Dioses
Los Ultimos Dias
La Continuación de Along with the Gods: The Two Worlds no se hace de rogar.
Aquí­, Su-Hong y sus tres guardianes del más allá¡ viajan a través de los siete infiernos para conseguir reencarnarse.
Mientras, un dios desafía todas las reglas para ayudar a gente común en el mundo de los vivos.
Singwa hamkke: Ingwa yeon
In the afterlife, one guardian helps a man through his trials,
while his two colleagues help a former guardian on earth.
 In the second credits scene, 1,000 years ago,
Gang-lim's father is seen dying, and is approached by Yeomra about taking over his position.
He does so, taking on the appearance of the former Yeomra.
This means, all along, over 1,000 years as a Reaper in the afterlife,
the Yeomra Gang-lim has been serving all along has been his own father he was desperately seeking the forgiveness of.
A wonderful follow up to its predecessor, the movie picks up directly after the first.
While I was doubtful on how they could make the story as compelling as the first one, this sequel delivers by focusing on the backstories of Ganglim and his crew.
It also slowly builds around the previous story without retreading on the old plot.
Furthermore, it also provides closure to the first part by seeing the aftermath of the events of the first movie.
In fact, there are three layers of stories, the conclusion of the first part, Ganglim and his crew's backstories,
and a new mission for the team while Ganglim is occupied. Jung-woo
Ha returns as Ganglim and is every relatable while maintain a charismatic performance.
Ji-Hoon Ju's character is given another side the audience has not seen,
while the ever-likable Hyang-gi Kim's still shines.
Dong Soek Ma's portrayal as the benevolent kitchen god is an great addition to the series,
and his talent is not wasted. Plot-wise there are many twists and though some could be predicted, others are not. T
here are great after credit scenes too,
and something that looks like the starting of a franchise. But the storytelling is still good,
and most of the protagonists get to shine.
Junto A Los Dioses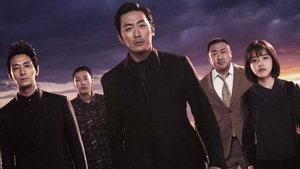 Titulo Original
신과함께-인과 연
IMDb Rating 7.0 2,210 Votos
TMDb Rating 7.6 Votos
Enlaces
| Ver Online | Calidad | Idioma | Formato | Plataforma | Detalles | Agregado | User |
| --- | --- | --- | --- | --- | --- | --- | --- |
| Ver Online | HDrip | Latino | Mp4 | No Disponible | | 12 meses | eMuleteca |